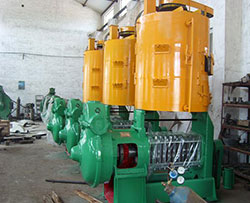 GENERAL DESCRIPTION:
Pre-press Expeller Model 202, a screw press for continuous production, is suitable either for production procedure of "pre-pressing-sovent extracting" or tandem pressing and for processing materials of high oil content, such as peanuts. cottonseed, rapeseed, sunflower-seed and etc.
FEATURES:
1. High capacity, less installation space, little power consumption and simple control&maintenance.
2. Pre-pressed cake being loose but not crushed is helpful to sovent penetration.
3. The percentage of oil and water contant in cake are suitable for sovent extraction.
4. The pre-pressed oil is of higher quality than that obtained by single pressing or single sovent extraction.
TECHNICAL DATA:
Capacity: 45-50tons/24hr (sunflower kernel, peanut or rapeseed serving as an example)
Residual oil content in cake: 13% approx (under normal conditions)
Electric motor: Y225-M-6.1000R.P.M., 30kw, 220/380V, 50Hz
Net weight: 5500 kgs.approx.
Overall dimensions (L*W*H): 2900*1850*3640MM